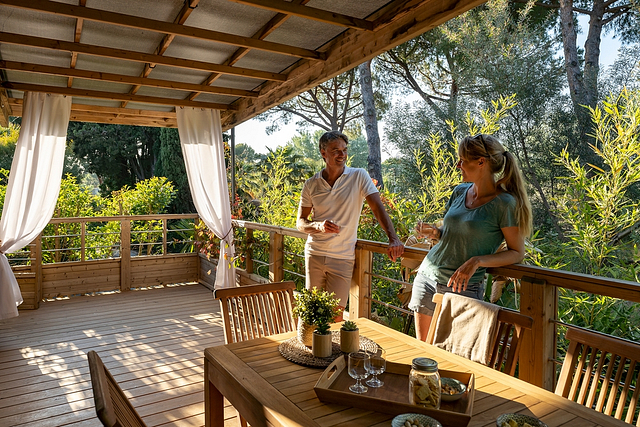 Everyone should have the chance
to experience an ecolodge
holiday
Discover our cabins on stilts and our other top-of-the-range accommodation options, camping show xxl, here in Fréjus
Settle down for a good night's sleep in an Ecolodge in Fréjus and discover the joys of glamping on the Côte d'Azur
Come and spend a dream holiday in our 5 star camping resort in Var, right in the heart of a luxurious nature spot between Fréjus and the beaches of Côte d'Azur. Come enjoy this bubble of wellness and tranquillity with your family and friends, the perfect spot to get away from your daily life, relax and do a little self-care.
Our Ecolodge l'Etoile d'Argens camping show xxl welcomes you to our redesigned open-air hotel, where we combine luxury, comfort, and the preservation of the environment. On our site, you will find many different accommodation options available: take your pick from our cabin on stilts, a mobile-home, or a traditional tent or caravan pitch here in Fréjus.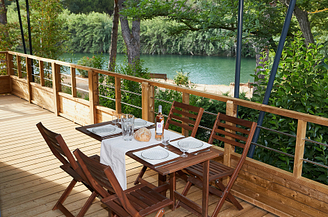 In a lush, green wooded piece of land spanning 16 hectares, make the most of an accommodation designed entirely for your comfort, and to cater to all of your needs, such as space, and serenity. All our mobile-home rentals here in Fréjus have been specially designed to make sure our guests can enjoy the slow, easy living and gorgeous sunshine our beautiful PACA region has to offer as much as possible. As a result, all of our mobile-home rentals come with a large terrace, complete with tables, chairs, and deckchairs. To make sure each of our guests can enjoy their holiday in their own way, each of our rental lodges comes equipped with a kitchen, television, and air conditioning. Our rentals can sleep up to 12 people. With a range of 28 to 40 m² space, choose a luxury cabin or make the most of our mobile-homes, specially adapted to all your holiday needs here on the Côte d'Azur!
Renting out an accommodation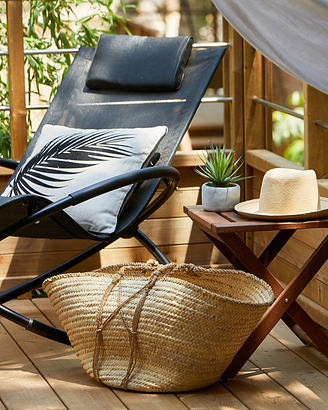 Our eco-designed, top-of the-range cabins on stilts in Var
A unique glamping holiday in Côte d'Azur: located right in the heart of nature and close by to the most beautiful beaches of the Côte d'Azur, the Ecolodge L'Etoile d'Argens invites you to try out one of our high-quality cabins on stilts. Built using natural materials, particularly wood, our cabins are designed to fit in as harmoniously as possible with their tree-covered surroundings. Our luxury cabins on stilts also come equipped with large terraces, the perfect place to sit and day-dream, relax, and enjoy a nice sun bath.
Available accommodation
of our Ecolodge in Fréjus
No availability with the requested criteria.
If you can't make up your mind, don't hesitate to contact our reception desk by dialling: +33 (0)4 94 81 01 41 or send an email via: info@etoiledargens.com.
Our receptionists will be happy to help you decide, to make sure you have the best holiday possible here on the Côte d'Azur.
Like to know more about the procedure to buy your own mobile-home Fréjus à l'Ecolodge L'Etoile d'Argens? Are you planning to purchase a mobile-home?
Then don't hesitate to contact our sales advisor by calling +33 (0)4 94 17 42 09 or via email at the following address ventes@etoiledargens.com
Consult our sales website