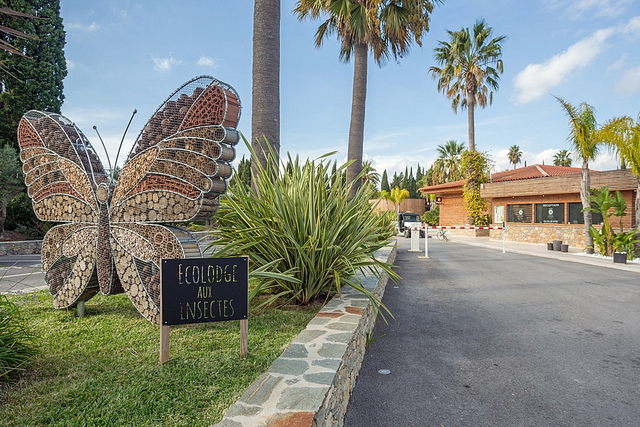 Big
commitments
and small eco-gestures
Our eco-friendly campsite in Fréjus
A green camping experience in Var
Nestled in the heart of classified Natura 2000 site in Fréjus, near the mouth of the Argens river, our establishment has always made it our priority to respect our environment, and ensure that any activities or developments are undertaken in harmony with the natural landscape surrounding us. Under our new management, the new head of the campsite has aimed to highlight this green philosophy and focus the majority of their strategy towards an eco-responsible process. Our goal is to create a perfect marriage between the health and well-being of our guests and the protection of the ecosystem present on and around the Ecolodge L'Etoile d'Argens. Our goal: Helping you have an unforgettable holiday without leaving a mark on our environment!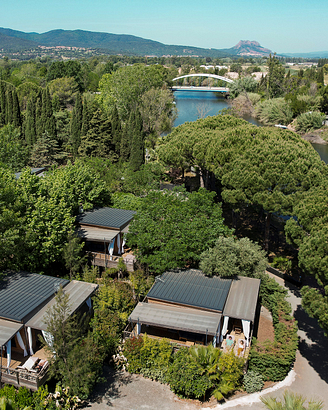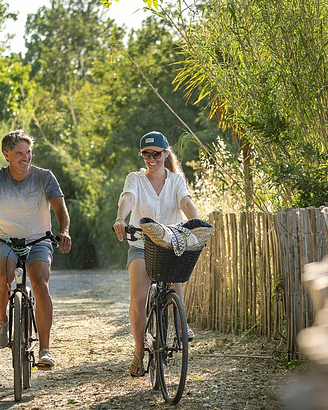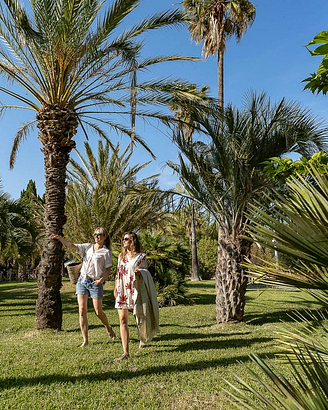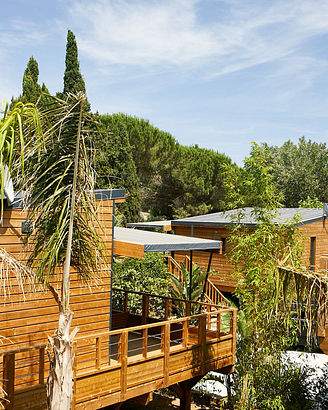 In order to turn our establishment into a true eco-friendly and eco-responsible campsite in Var, we began establishing many actions and strategies in 2017. Though we still have a long way to go and many more projects to unpack (such as making the domain an entirely pedestrian area!), our guests are already able to experience some of the delights and benefits of staying in a green campsite in France, surrounded by a natural, calm, soothing environment, on the banks of a charming river and in close range to the most beautiful beaches of Fréjus, Saint Aygulf and Côte d'Azur.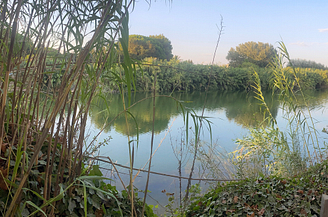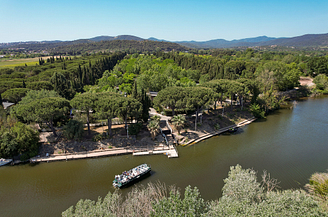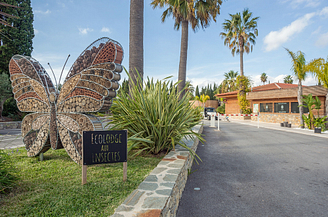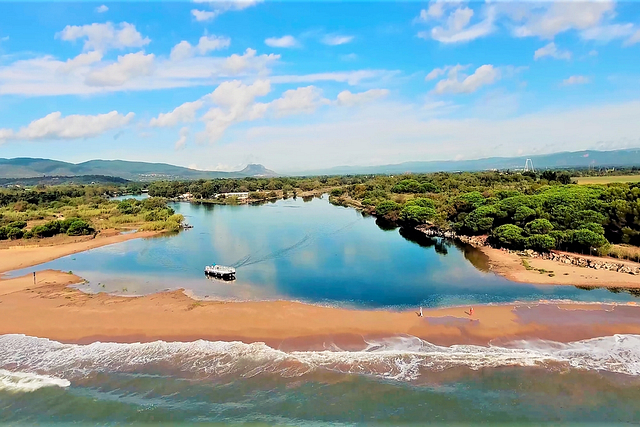 A labelled environmental commitment
In 2017, our campsite was awarded the Green Key Label, to mark the commitment of our green campsite and the actions we taken to preserve the environment. The Tourist Green Key Ecolabel is the first international environment label for tourist accommodation and restauration. Any professionals awarded this label have shown proof of their active dedication to the environment as well as their willing intent to aim for the best green practices recommended by the Green Key principles.
In 2021, we also became the proud owners of an EU Ecolabel, After being awarded yet another green label in 2022 for our green actions, our team is far from finished. We are continuing to push ourselves even further in order to achieve our goal of becoming a 100% eco and family-friendly campsite!
In 2022, our 5 star rating was renewed once more.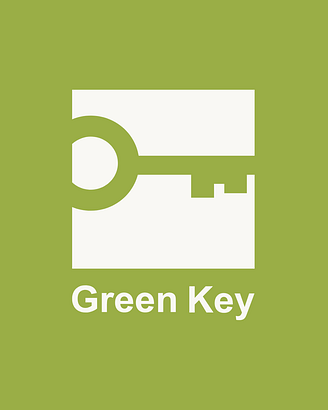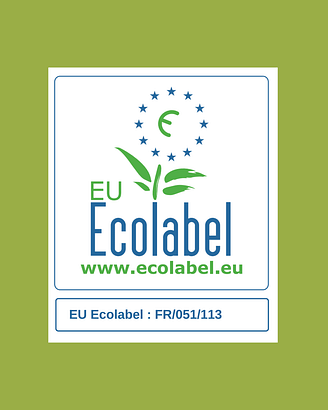 Environmental Charter
Our eco-friendly campsite in Var offers our guests the chance to support our green cause and environmental practices through simple, sensible behaviour listed in a charter of good environmental practices. With just a bit of effort, our small actions and gestures, if produced by many, can help us preserve both our planet and our campsite's surrounding environment!
Discover more about our Environmental Charter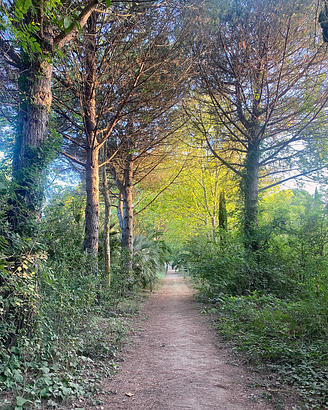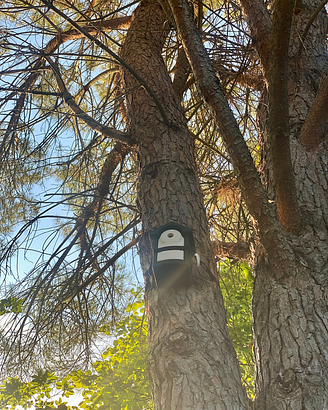 The best eco-gestures for the best and most environmentally-respectful kind of holiday
Since 2017, many actions have been undertaken to make our campsite more eco-friendly and help us pursue our goal of a sustainable, virtuous tourism. Read more about some of our most remarkable eco-gestures below:
An Aquatic Centre specially designed to reduce the treatment of water
In 2018, we renovated our Aquatic Centre, We added in a very powerful filter system to allow us to obtain the purest and healthiest water possible. Your skin will not be dried out by the products used to treat the water, such as chlorine, as the use of these products has been considerably reduced to respect the current guidelines. We also replaced the plastic conduits with stainless-steel models, this material is not altered by the sun and does not release any pollution into the water. The bottom of our swimming pools are made with glass tiles and the rims are made with slate anthracite. These materials were chosen with the utmost care in order to preserve our guest's health, that of their children, and the environment that surrounds them.
Green, sustainable materials for our new accommodation lodgings
Choosing materials that are categorised as green and sustainable is now a vital and non-negotiable criteria when acquiring new holiday rentals. These strict requirements are also naturally applied to any construction work undertaken. For example, the cladding of the buildings come from forests exploited in an eco-responsible manner. We also prioritise French companies both in the design and production of our rentals (mobile-homes and ecolodges). The furnishing of these top-of-the-range accommodation lodgings is also carried out through the use of natural materials, all while maintaining the luxury comfort a 5 star open-air hotel demands.
Moving one step closer to renewable energy
It is no easy feat to modify the sources of energy provision found in our current accommodation…it is a lengthy process. Nevertheless, all our new holiday rentals are chosen with this guideline at the forefront of our minds. Our goal: to limit the amount of CO2 emissions as much as possible. For example, to help us achieve this goal, we have equipped all of our rentals with low-energy light bulbs.
Water is a precious resource, let's not waste it!
Water is a precious resource. This statement is even more valid here in Var. That is why each of our mobile-homes comes equipped with a water-saver system. The latest of these models installed come equipped with an individual water meter in order to avoid any leaks, and each member of staff at our Ecolodge L'Etoile d'Argens campsite is trained to detect any potential leaks. If you do notice a leak during your stay then please let us know right away!
Chemical fertilisers are not welcome in our campsite
Our open-air hotel is committed to completely banning any chemical fertiliser, opting instead for natural fertilisers only. All of our cleaning products are also ecologically certified.
Better Waste Management
Our Ecolodge l'Etoile d'Argens makes it our mission to properly recycle and dispose of any waste. A waste-sorting area is available to our guests. Our staff at the Ecolodge also re-use part of the waste collected to make straw-mulching and compost. Any pollutive and/or dangerous waste such as used food oil, are stocked in specific spaces to be collected by an expert recycling company. All of our cartridges and plastic bottle tops are also all recycled to be given to charity.
Organic treats at the grocery shop
The grocery shop at the Ecolodge L'Etoile d'Argens offers a wide range of products, ranging from certified organic to fair trade items,
Local, specially-selected options at L'Olivier restaurant
Our restaurant staff at our eco-friendly campsite offers our guests high-quality French cuisine packed with Mediterranean flavours inspired by our local farmers and producers. Whenever possible, our resort prioritises local distribution and organic food. You will find one vegetarian meal per day at least listed on our daily menu!
A Botanical Trail
Located in an idyllic spot right in the heart of nature, as well as the Natura 2000 site, our botanical trail stretches all the way along our establishment, from the small car-park all the way to the Argens river. On this trail, visitors might be able to spot a few endangered species, as well as a few wild animal next-door neighbours, particularly in the nesting boxes for birds installed by the LPO association. For the nature enthusiasts, we have also set up 20 or so signs to help our visitors identify certain plant species.
The Ecolodge L'Etoile d'Argens is a member of the LPO association for the protection of birds, and is even classed as an LPO Sanctuary.
Did you know? The Ecolodge L'Etoile d'Argens is home to over 70 pairs of budgerigars.
Our campsite has been proudly showing our support to the League of the Protection of Birds since May 2017! More recently, in February 2019, our campsite was classed as an LPO Sanctuary. This means that we are committed to protecting the surrounding nature on our land in order to preserve the habitat of our bird neighbours. This is accomplished through using only natural products in the upkeep of our lush green spaces, setting up bird nesting boxes and baths, leaving piles of dead leaves, etc.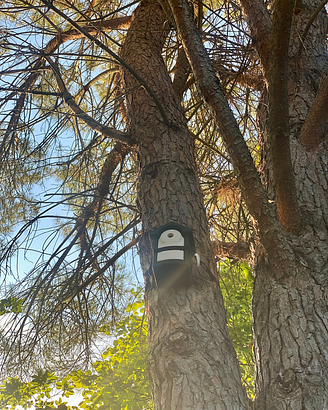 Our upcoming projects to transform the Ecolodge L'Etoile d'Argens into the symbol of green camping in France
Our eco-friendly campsite in Var offers our guests the chance to support our green cause and environmental practices through simple, sensible behaviour listed in a charter of good environmental practices. With just a bit of effort, our small actions and gestures, if produced by many, can help us preserve both our planet and our campsite's surrounding environment!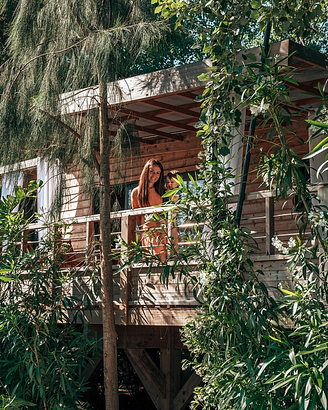 Our Ecolodge children's book
Discover our Ecolodge children's book and colouring book!
Our Ecolodge has published a book for children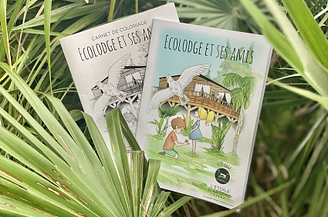 A 100% pedestrian campsite!
Transforming our establishment into a 100% pedestrian campsite is one of our top priorities for the future. Limiting access to the park to vehicles is a crucial move to allow our holidaymakers and their children to have a peaceful and safe stay. Our goal is also to reduce the use of polluting vehicles inside the park itself. To help us with this plan, a bicycle rental service is available to our guests. As for our staff, any vehicles used inside the campsite are all electric.