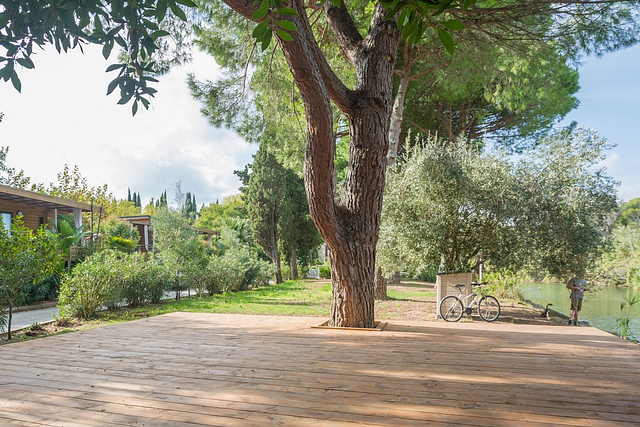 Our campsite's
special environmental
charter
Simple gestures to adhere to and respect
at our eco-friendly campsite.
An Environmental Charter for our environmental campsite
A pioneer of sustainable tourism in Var, and the first eco-friendly campsite by the sea in Côte d'Azur, the Ecolodge L'Etoile d'Argens offers our guests the chance to support our green cause and environmental practices through simple, sensible gestures listed in our campsite's environmental charter. Just a bit of effort, and our small actions and gestures, if produced by many, can help us preserve both our planet and our campsite's surrounding environment, all while continuing to make the open-air hotel industry the most eco-friendly way to holiday..
To find out more about our small actions and gestures helping to reduce the environmental impact of our activities, then read on about the eco-gestures of our eco-responsible campsite!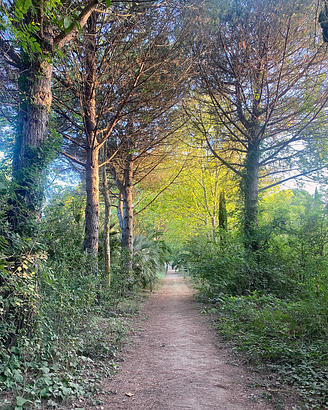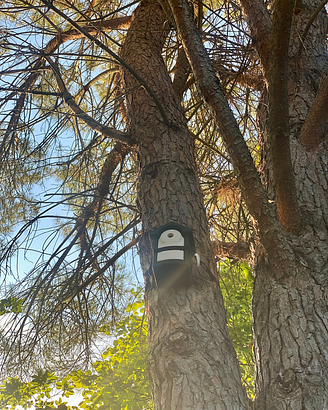 10 Just a few simple actions
can help reduce your environmental footprint and protect the environment during your stay at our campsite (and after!)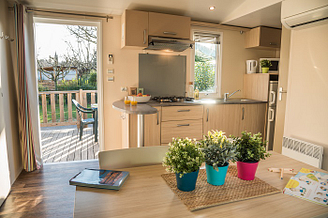 Turn off your heating
Don't forget to turn off your heating in your mobile-home or camping rental when you leave the windows open, and remember to shut the windows when the air conditioning and/or heating are on. To help preserve our environment, the recommended comfortable temperature to leave your heating device on is 19°C.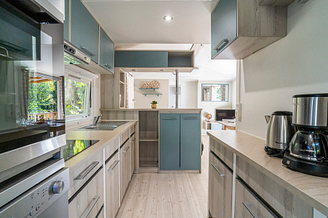 Turn off your lights and electric devices
Remember to always turn off your lights when you leave the accommodation. Avoid putting electric devices on stand-by mode, particularly your computer or phone charger. A charger plugged in with nothing charging still consumes a lot of energy, and in extreme cases, can become a fire hazard.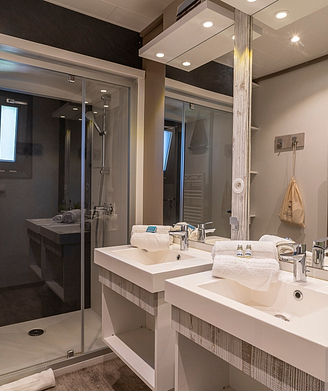 Save your water
Water is a precious resource, both in our open-air hotel as it is everywhere else. Do not leave the tap running.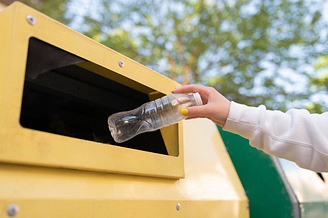 Separate your waste
In our campsite, you will find a spot near the entrance reserved for waste-sorting. Sorting through your waste properly allows any reusable waste to be recycled. Make good use of our special waste sorting bins: glass- plastic-paper and cardboard For food waste, please use the green bins.
Protect the plants and nature on site
In order to preserve nature and protect the plants living on it, we ask our guests to not throw any dirty water at the foot of the plants. Our nature campsite, adorned with luscious green plants and trees is watered using a special water-drop system set to go off at specific hours to avoid evaporation.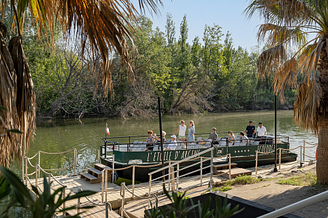 Opt for the water-bus shuttle
Leave your vehicle on site and take the water-bus shuttle to the sandy beaches. A relaxing, short half-hour journey on the Argens river in the heart of a Natura 2000 site surrounded by gorgeous landscapes. Doesn't that sound better that taking your pollutant vehicle and spending ages looking for a free parking spot during High Season?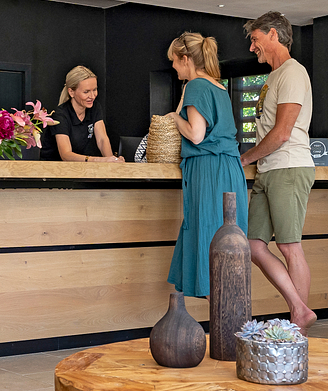 For any irregularities, please inform the campsite staff
Please report any irregularities you may notice concerning your accommodation or campsite equipment (water leak, faulty air conditioning etc.)
Only change your bed linen when you need to
To help reduce our environmental impact, we only change your bed linen and towels when it is necessary, and only when requested.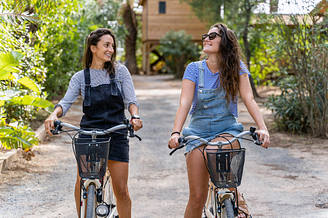 On your bike!
Both inside and out this heavenly patch of green land, make the most of alternative transport such as bicycles and scooters, to get around our site. An ideal transport solution for the whole family!
Opt for local, seasonal food
During your stay at our eco-friendly campsite in France, we recommend opting for a local, seasonal food choice, in particular, fresh fruit and vegetables from Provence Alpes Côte d'Azur! The best way to do this is to go and sample the produce at the campsite's on-site grocery shop, where you will find plenty of organic options and fair trade produce.
Thank you for your cooperation. We hope you enjoy your stay with us in Fréjus!
Book your holiday with us now before all the spots are taken!