Our Ecolodge has published
a book for children
New! Our Ecolodge has published a book for children.
A fun, education tool to teach children about the importance of our environment.
Ecolodge is proud to present to your our book for children
It has taken us many months to bring this project to life, but we are finally able to introduce it to you.
The Ecolodge has self-published its own children's book called "Our Ecolodge and Friends".
We are delighted to be able to offer our visitors, particularly our youngest guests, an illustrated children's comic-style book to teach them all about the basics of what our establishment represents, being eco-friendly and responsible and respecting the environment.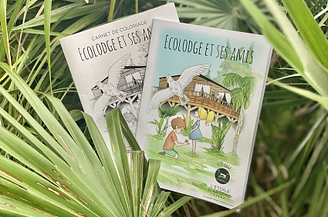 What is our Ecolodge comic book about?
Our story is about a family who come to spend a week's holiday at the Ecolodge l'Etoile d'Argens. But most importantly, it is about two children, Yola and Yohan, and the special guide they meet, Birdy the Seagull. Every day, Birdy takes them on new adventures all around the campsite. During these adventures, the children learn all about the environment and make some exciting and enriching discoveries.
Our children's book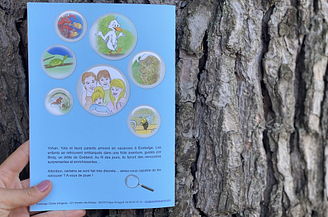 How was our illustrated Ecolodge comic book made?
Our initial plan was to create a sort of comic strip, something with lots of pictures and inspired by real places, as well as a few new ideas. This way, our little holidaymakers can recognise the campsite spots and put themselves in the characters' shoes to understand the lessons better. Therefore, we started off by taking pre-existing photos of our campsite and enhancing them through augmented reality.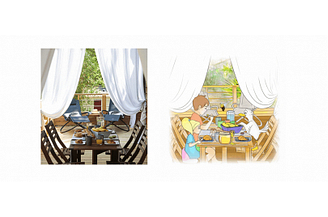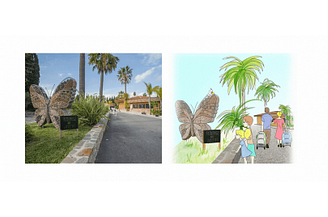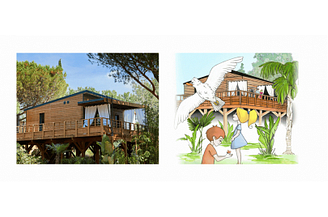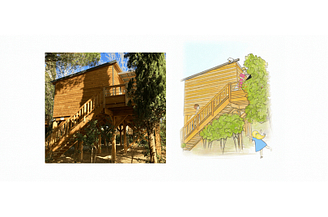 What is the purpose of this book?
We at the Ecolodge really wanted to highlight the different actions undertaken in this establishment in a fun, light-hearted way that can easily be understood by children. What better way to spread our eco-friendly messages than through our youngest guests?
Follow Yola and Yohan's family as they visit the Insect Hotel, arrive at their Lodge Kabane on stilts in the middle of the trees, go bike-riding along our botanical trail with the squirrels, go canoe-kayaking on the Argens river that runs along the campsite, head out on an excursion by boat, go scuba-diving and discover some coral, and many more adventures….Birdy is there to guide them through this Natura 2000 nature reserve and bird sanctuary. Throughout these discoveries, the children get to speak with a turtle, a bee, a fish, and even a tree, who all explain to the children their place in the world and teach the children that they are the ones capable of making a difference.
A trivia section at the bottom of the page provides additional information for any children curious to find out more.
We wish to say a big thank-you to the extremely talented Céline Michau for her beautiful illustrations and Marielle Noé for bringing our story to life through her words.