Holidays are about sea, sun
and HAVING LOTS OF FUN
A 5 star campsite in PACA where sharing
and caring isn't just a saying, it's a guideline
Activities
and Entertainment
Try out our many fun and sporty amenities so you can laugh and play all day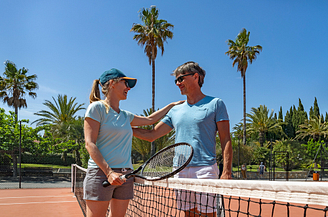 Games and activities for children of all ages in Fréjus
Being environmentally-friendly doesn't mean you can't have fun! Naturally, a few motor-vehicle activities are prohibited here in order to minimise our environmental impact and not disturb the cicadas. However, there are plenty more activities our guests can partake in to make sure they have an unforgettable holiday.
Because holidays are also about kicking back, relaxing and re-energising, and we know how precious those moments are, our PACA campsite dedicates itself to make sure your unique holiday experience is also a delightful one. Inside our establishment, you will find a large number of fun, leisure and sporting equipment to try out. Meanwhile, our activity leaders have plenty of exciting activities and entertainment opportunities for you…
All around the Ecolodge, both on land and sea, in and around Fréjus, there are many more exciting and entertaining activity ideas waiting to be sampled! Whether on foot or bicycle, why not head over to our François Léotard nature base. Here, in an open, spacious 135 hectare patch of land, 50 of these have been converted into spaces for sports and leisure activities: (skate park, BMX track, etc.)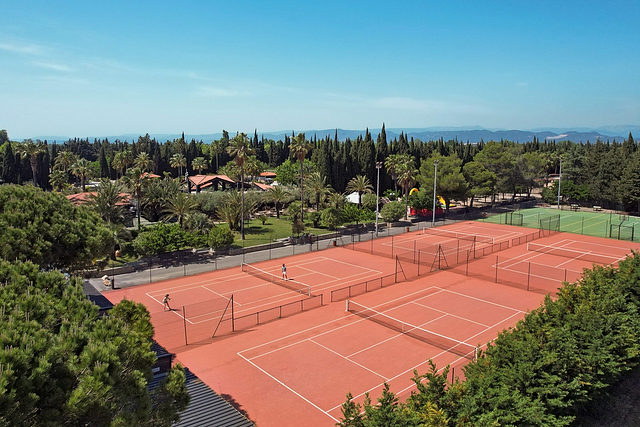 Take a hint from Mother Nature
What was that? Race you on a paddleboard or in a canoe? No, thank you! I would much rather slump across a piece of driftwood by the riverbank and sunbathe!
Sporting equipment
We have many options, such as a multisports terrain where you can try out many different athletic activities
Physical exercise
Exercise and classes organised by instructors or activity leaders, to make sure your workout doesn't knock you out
Fun activities
Fun for all ages, to meet new people and share some unforgettable moments with new friends
A nautical base
Situated on the banks of the Argens river, this base allows you to rent out paddleboards and kayaks
All the leisure and sporting amenities available at our 5 star PACA campsite
In its idyllic setting in Provence Alpes Côte d'Azur, The Ecolodge L'Etoile d'Argens invites you to make the most of the leisure and sporting equipment available during your stay in Fréjus. For example, you will find a boules pitch made up of four petanque plots, four tennis courts, a multisports terrain, several ping pong tables, a kids playground, a mini-golf spot and two clubs for kids and teens. Most of our equipment is available for free all day long, however, our (free) access to the tennis courts must be booked in advance. Please note that for the mini-golf, all the golf clubs and balls are available at the "mobil'anim", the activity leader's lodgings via simple request and a piece of ID.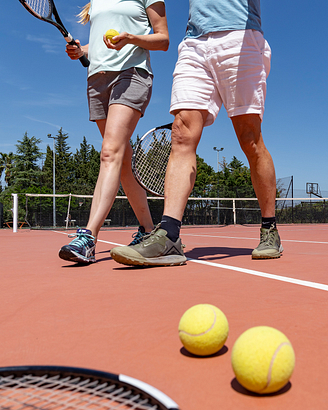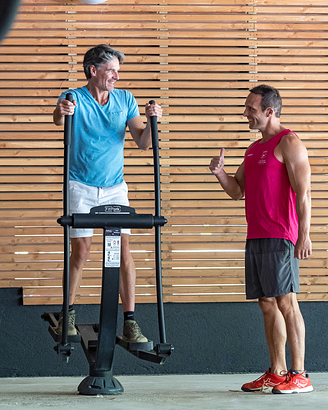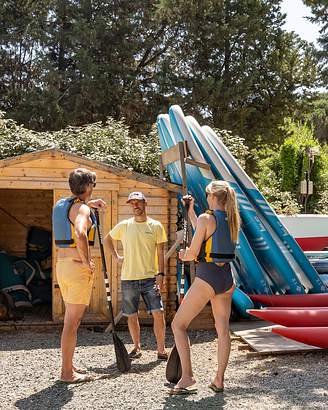 A varied programme of activities and entertainment
Inside our PACA campsite by the sea, we have many different activities on offer for those who are interested. For example, during the season, the tennis courts are operated by a certified tennis expert from the French Tennis Federation. L'Olivier, our bistronomic restaurant, also organises great petanque tournaments every season. A certified Yoga and Pilates instructor is also available during the entire High Season for Beginners and Intermediates alike. And if you need to tone up those muscles then come and join one of our gym or fitness sessions, scheduled daily. These sessions are available for every level. Archery and Dance lessons are also on the schedule and available for free. Finally, any guest is welcome to join our water aerobics sessions at the Ecolodge L'Etoile d'Argens. The perfect combination of the joys of being in the swimming pool and the benefits you reap from a good workout.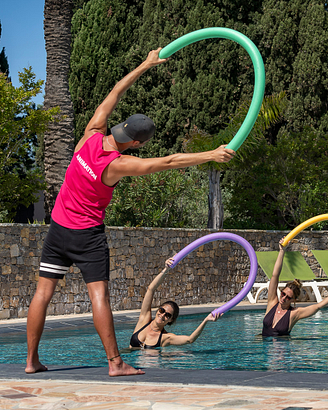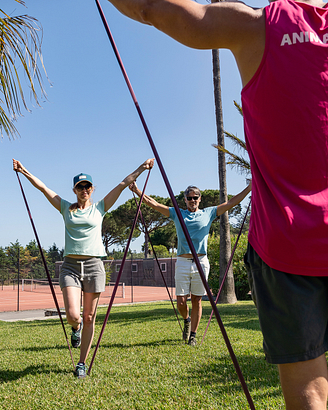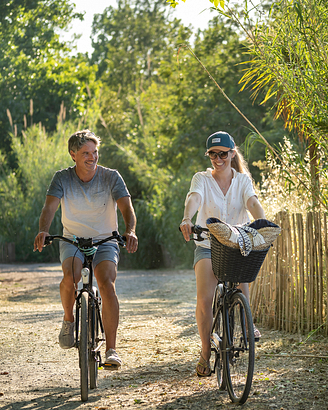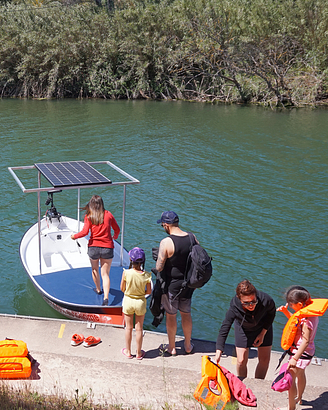 Visits and Excursions around the Region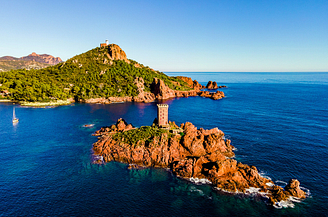 ©Shutterstock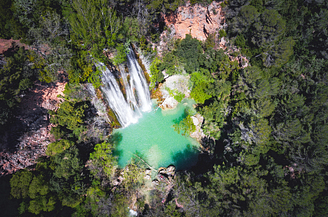 ©Shutterstock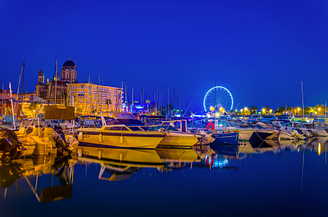 ©Shutterstock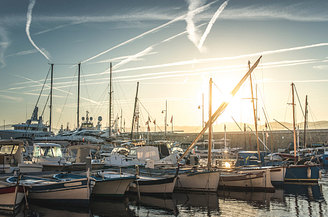 We are privileged to be surrounded by such an idyllic environment, filled with abundant nature that is home to many diverse species of fauna and flora. To discover more about this nature, why not join one of our group excursions? Come on a pedestrian hike, led by a personal guide who can't wait to share their passion for our region with you. Also on the programme: guided tours of the region. Finally, if you want to find even more about the marvels this land has to offer, try one of our tasting outings. Head over to a wine-growing domain not too far from the Ecolodge L'Etoile d'Argens.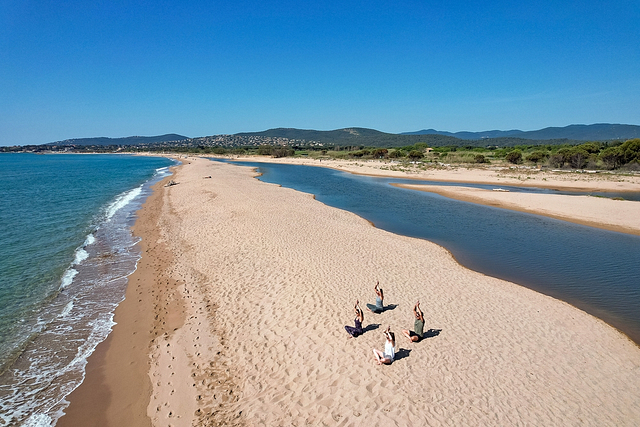 Friendly group activities and a light-hearted atmosphere: the perfect ingredients for a perfect holiday
You will be greeted at the reception upon arrival who will be glad to tell you about the numerous activities and entertainment events going on at our PACA campsite, as well as the excursions to the beautiful, surrounding beaches. Come and enjoy our welcome party every Sunday during July and August. The perfect opportunity for us to get to know our guests and for you to get to know the other holidaymakers over a drink or two in a friendly, festive, fun atmosphere.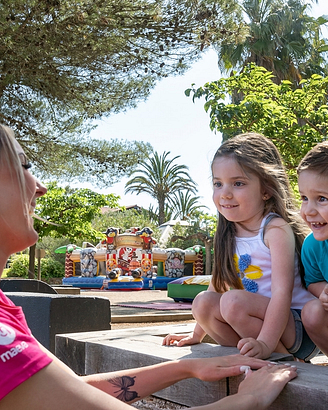 Come and see our nautical base right in the heart of our campsite in Var!
As well as the many athletic and leisure activities available, our establishment also contains its own nautical base! This base is directly situated on the bank of the river Argens, where you can rent out a kayak, paddleboard or boards for kite surfing. You can also head off on your own excursion, a hike under the sea via snorkel, or try our Beginner's scuba-diving course! On the sandy Esclamandes Beach near our campsite in Var, you will find many more nautical activities to try on the edge of the Mediterranean Sea!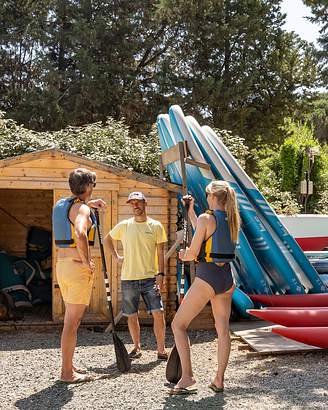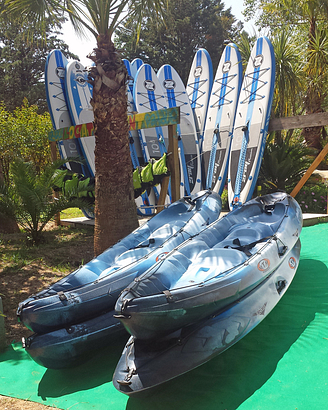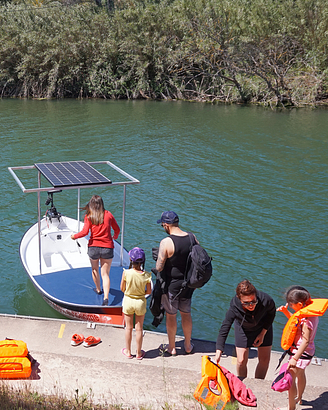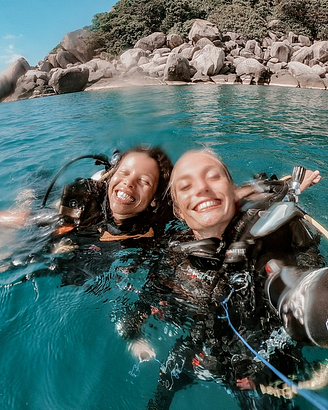 Activities between the Land and the River – Raid Loc
From the 07th of April to the 23rd of September 2023
Come and join Thibaud every day between 10 am and 6 pm at the nautical base of our Ecolodge on the banks of the Argens river, and rent out a paddleboard or a canoe-kayak (2 to 3 seater), Waterbikes, and other electric vehicles. (scooters, motocross dirt bikes, Drift Trikes…)
You can also take a walk along the Argens river in the morning (breakfast included), or at night, between 9 pm and midnight.
You can consult the prices for our nautical base activities by clicking here.
Contact Thibaud on +33 (0)6 30 48 97 03 / https://www.raideloc.fr/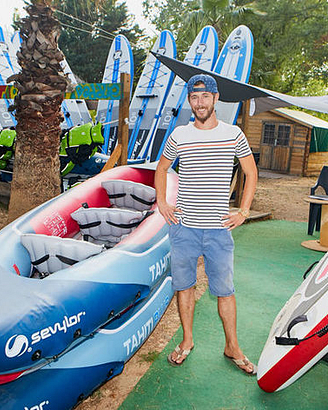 Born to Dive diving school
From the 15th of May to the 10th of September 2023
Head off from the Ecolodge with Matthieu and Coline as they take you to explore the coast and our beautiful Mediterranean sea for an unmissable outing.
From a simple excursion to scuba-diving, with your family, friends, or your other half, there is something for everyone!
A trip to the Three Islands
Head over to the island in the morning via boat for a rich, four and a half hour guided tour to the heart of Esterel nature reserve to explore the coast and its islands!
Get ready for : Admiring the rocky inlets, red rocks, and learning plenty of facts, surrounded by clear, clear water and a combined with a congenial atmosphere.
During a stop, pop on your snorkelling gear and dive down to discover the local marine fauna and flora during a supervised snorkelling underwater hike.
With Matthieu and Coline, you are in good hands! Let yourself be gently rocked by the waves and enjoy your cruise on the VogueMerry.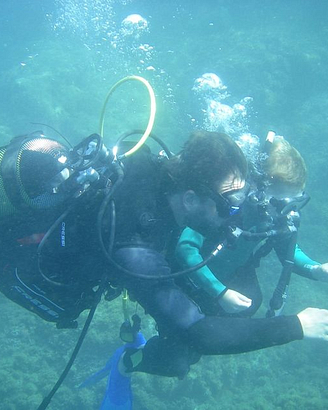 Perhaps you might want to swim down a little deeper into the diving sites of the region (which are some of the most beautiful in France!)
In that case, our experts can also give you a scuba-diving baptism, coach you to pass a diving grade level( (between levels 1 to 4) or show certified divers the best diving sites of Var during an exciting undersea exploration.
These two certified, passionate diving instructors will guarantee you have a unique,enjoyable experience!
Prices
– Excursion to the Three Islands: 55 € per excursion and person
– Diving Baptism 85 € per person
Full capacity of boat: 33 people
Book Now:by phone (preferably via text message) or book directly during the welcome party upon your arrival.
Bookings must be made 48 hours in advance at the latest
Contact Mathieu at +33 (0)6 15 58 28 75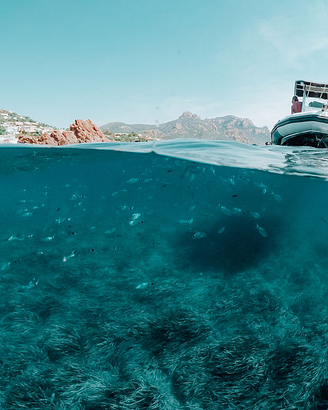 Roquebrune golf
When booking your stay in out 5 star open-air hotel, you will benefit from exclusive access to the Golf de Roquebrune golf club, situated between Saint-Raphaël and Sainte-Maxime, just a few miles away from the Ecolodge.
Turn your stay at the Ecolodge l'Etoile d'Argens into your own, personal golfing tournament right in the heart of Côte d'Azur.
The Golf de Roquebrune club offers many high-quality golfing activities:
 Try for 18 holes in a row in an idyllic surrounding
 Golf lessons, either to learn the basics or hone your technique, (by yourself, as a couple, or as a family)
Feast your eyes on the beautiful bay of Saint-Raphaël and the massif des Maures as you trundle up to the Golf de Roquebrune site.
See how many holes you can manage: technique and precision are the keys to an exciting golfing experience.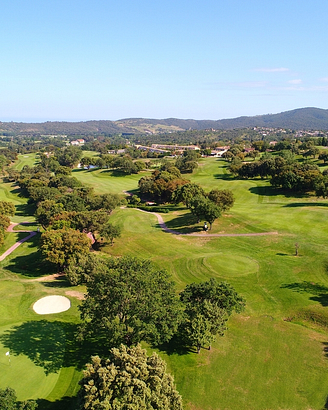 The Ecolodge l'Etoile d'Argens offers you the chance for a quality golfing excursion at the Golf de Roquebrune golf club in Fréjus thanks to our following preferential rates:
Classes for Beginners: 80€ (15% discount)
– Group: For 4-8 people
– Duration: 1 hour.
– A mew discovery for Beginners
– From Monday to Saturday
– Booking only
Training – 15% discount on all training programmes
– Duration: 4 days
– Session spots and dates predetermined: see the Golf de Roquebrune programme for more details
– Junior Training, Discovering and Perfecting the sport
Price includes:
– Practice balls
– Loan of material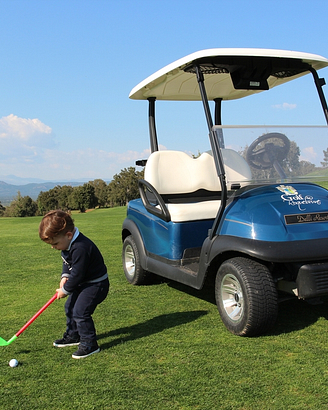 An 18 golfing-hole adventure at just 80€
The ideal location of the Golf de Roquebrune club, just a few miles away from our Ecolodge, allows you to putt away to your heart's content just a few miles away from luxury seaside resorts such as Cannes and Saint-Tropez.
The Golf de Roquebrune golf club offers its guests an over 2-mile itinerary through the heart of nature, with several obstacles along the way: over 40 bunkers and 6 ponds.
Just present your coupon given to you during your stay at the Ecolodge l'Etoile d'Argens in order to benefit from the preferential discount rate for the activities mentioned above. You can book your golf round through the Golf de Roquebrune club directly, by indicating your client number on your booking contract:
You can also make your booking by phone at: +33 (0)4 94 19 60 35
– By e-mail : roquebrune@resonance.golf
– Book online: www.golfderoquebrune.com
In order to access the Golf de Roquebrune green, guests are required to wear: appropriate attire(Jeans & Tee-shirt are not allowed), their health card and an up-to-date FFGolf Licence. Our four-legged dog friends are not allowed.